Aigues-Mortes capital of Vins Sable de Camargue
Our Restaurant Ambassadors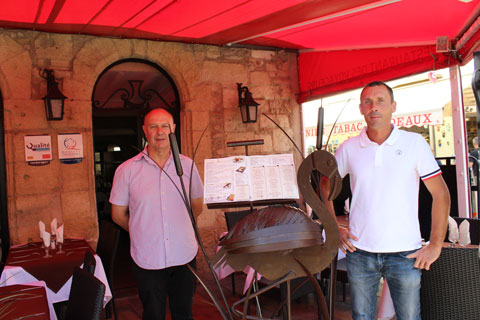 In the shade of the plane trees of Place Saint-Louis, in a medieval setting, the restaurant Voyageurs offers a fully regional cuisine using local products. A traditional cuisine, certified South of France ®. For exemple : skewers of fish caught in the sea of Grau du Roi, cuttlefish à la plancha, sea-olive clams, and gardiane, Flagship of this typical cuisine. The Outside spray on the terrace is very popular in summer. 8, place St Louis – +33 (0) 4 66 53 60.77
Le restaurant des voyageurs
Place Saint-Louis, 30220 Aigues-Mortes
Located around In the city of Saint-Louis and at the foot of the famous ramparts, the Sable de Camargue vineyards come from a unique and preserve terroir that extends over nearly 3,000 hectares. More than one hundred winemakers-producers work with passion, and contribute to the development of the ancestral know-how.
The vine growing is a part of the Aigues-Mortes DNA, as Like salt harvest can be. Capital of the Sable de Camargue wines, the city and the Mayor team supports the restaurant businesss, considered as the very first ambassadors of the local products. A work of art has been commanded to a local artist : a wrought iron flamingo menu stand. It is a distinctive sign with identity, a vector of communication, promoting local products and its wine. "Who better than the tourism professionals, particularly our restaurant owners, can speak about and promote the products that make our identity," says Noémie Claudel, Deputy Delegate for Tourism, President of the Office of Tourism.
The flamingo "porte menu" is awarded each year by a jury. The restaurants are selected for the quality of their local cuisine, which is exceptional by their choice for fresh, seasonal, local,typical and excellent products. For instance the PDO Bull and its famous Gardiane, the fish and shellfish from the nearby shore, or even the melons, strawberries, carrots, potatoes and asparagus from the sands. They all present delicious flavors, which subtly and accuratetely pair with the range of Gris wines of Sable de Camargue . Thus, the professional-ambassadors of the taste, advise, present and propose "this direct and honest wine, with the beautiful pale grey salmon color ".